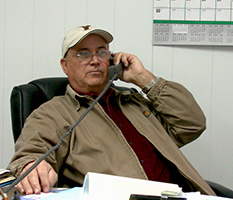 Elliott Paul, President
Elliott Paul is the President of Eagle Granite Company, Inc.. Elliott started in the granite industry out of high school and learned the industry from the ground up with Allen Granite Co., Inc. In 1981 he partnered with Tony Adams at Eagle Granite Company and over the last twenty years has built the company into one of the premier manufacturers and quarriers in Elberton.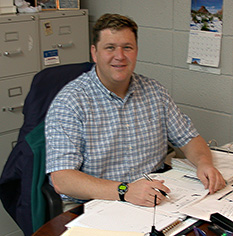 Bob Paul, Vice President
Bob Paul is the Vice President and General Manager at Eagle Granite. Bob started working in the granite industry while in college at Furman University and has been working full time since 1991. Bob is active in the Elberton Rotary Club and the local theater group.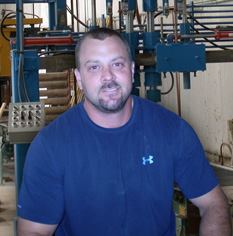 Nick Fleischer, Vice President of Operations
Nick Fleischer first began learning about the granite industry while in high school. During the summers he worked at Eagle while attending college at USC Aiken. Upon graduation with a degree in business he came home to help run the company. Nick is the Operations Manager and has been responsible for helping to upgrade the production in our plant facilities.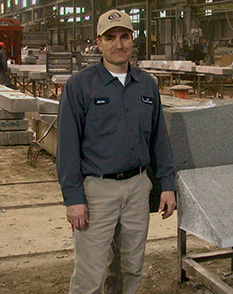 James Walters, Plant Superintendent
James Walters is the Plant Superintendent and works hard to make sure that the orders are manufactured correctly and loaded on time to get to our customers. James and his wife Jan are the parents of Nathan and Jilly.
Kevin Brown, Sales Manager
Kevin has been employed within the granite industry for more than18 years.  He started out in sales in 1995, after moving back from Atlanta where he spent a few years in another industry after college.  As a graduate of Georgia Southern University, with a degree in business, he enjoys sharing his success with his wife Candice, and two children Leyton (16) and Lauren (13).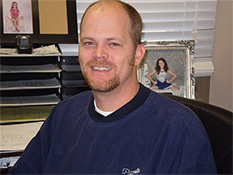 Sanford Butler, Sales
Sanford has been with us since 2006 and in the granite industry for 26 years. Sanford has been an East Coast Sales Manager since 1998 serving NY, NJ, PA, DE, MD, DC, and VA. He has 2 daughters Hannah 20 & Brooklyn 11. Sanford is very attentive to his customers and has a great track record for keeping them happy. He has a very loyal customer base and travels frequently to visit with them on a monthly basis. If you know Sanford, then you know he LIVES for LIVE MUSIC as he attends many concerts each year as well as several music festivals! He enjoys water - snow skiing and his passion is cooking.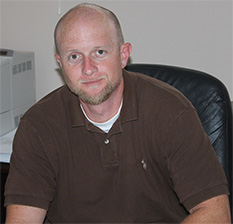 Stewart Cone, Sales
Stewart Cone is Regional Sales Manager for Texas, Louisiana, and Mississippi. Stewart has over eighteen years' experience working in Memorialization - including quarrying, manufacturing, and sales. Stewart and his wife Sara have two children, Ethan and Isabella. Stewart enjoys coaching Little League. He and his family are active members of the First United Methodist Church in Elberton. Stewart believes in keeping customers happy by giving them great service and working to exceed their expectations.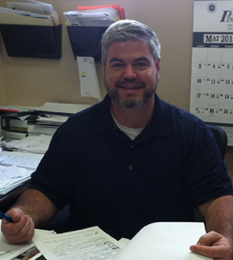 Stacy Hover, Sales
Stacy Hover is Regional Sales Manager for Florida, Georgia and Alabama. He has a BS in Business Administration from Emmanuel College.  Stacy and his wife, Julie, have three children, Isabel, Jack, and Sara Kate. 
He enjoys fishing, spending time at the lake, and being with family.  He and his family are actively involved at First Baptist Church in Elberton.
Brenda Robertson, Customer Service Director
Brenda has been employed within the granite industry for over 20 years and is an Elberton native. Brenda and her husband Shane have three children, Wesley, Chloe and Owen and a grandchild Charley. They are active members of First Baptist Church of Elberton. She enjoys camping, boating and just being with her family.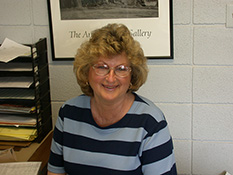 Emily Smith, Customer Service
Emily Smith is the resident order expert with over forty years experience in the granite industry. She and her husband Johnny reside in the Rock Branch community of Elbert County and enjoy living in the country. They have two sons and two grandchildren, Emma and Jack, who are very special to them. Emily is an active member of Coldwater United Methodist Church.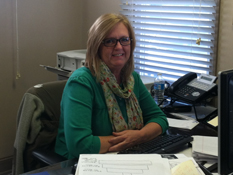 Tina Cannon, Customer Service
Tina Cannon works with orders, quotes and most other customer service related questions. She has been a part of the Eagle team for 11 years. Tina and her husband David live in the Rock Branch community of Elbert county with their 2 children. She loves spending time at the beach, shopping and enjoying her family. She is an active member of Bethesda United Methodist Church in Hartwell. Go Dogs!!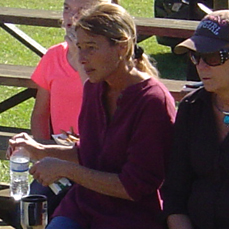 Cindy Russell, Marketing
Cindy has been been a Marketing Director for the past 14 years. She is a graduate of Rochester Institute of Technology's College of Fine and Applied Arts with a major in Graphic Design. Originally from Florida, she now enjoys life on her GA horse farm with husband Ron and their daughter Danielle!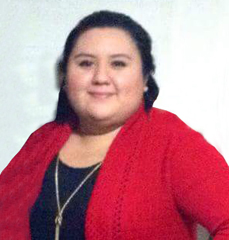 Alma Bravo, Shipping/Imports
Alma was born and raised in Brownsville, Texas. She moved to Elberton as a teen and has resided here ever since. She enjoys spending time with her husband, Eliazer and her son, Josue. They enjoy coaching their son's soccer team and spending time outdoors or traveling. Alma has more than 7 years in the granite industry and has experience dealing with import memorials.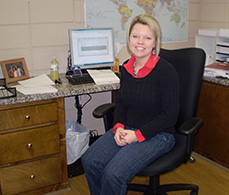 Chrystal Todd, Accounting
Chrystal Todd has worked in the Accounting Field for over 15 years. She has two children, Courtney and Haleigh and enjoys spending time with family, walking, and kickboxing. She is also a member of Rock Branch Baptist Church and serves as the Church Clerk, GA Director, Awana Secretary.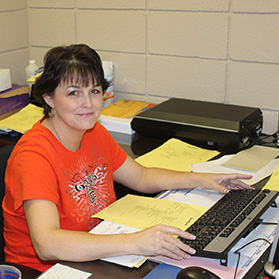 Paula Stephens, Drafting
Paula Stephens is a draftsman and operates our Monu-Cad system. She is married to Robbie and has 4 children and 6 grandchildren. She attends Bowman Church of God, where she teaches Sunday School and helps out with Childrens' Church. Paula is also a BIG Florida Gator Fan.!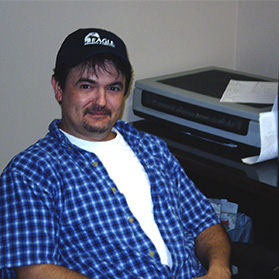 Allen Seymour, Senior Draftsman/Laser Artist
Allen is our senior draftsman with over 35 years of experience. He operates one of our Gerber CAD Systems and has 14 years of experience in laser etching. Allen is also a huge NASCAR enthusiast and Dale Jr. fan!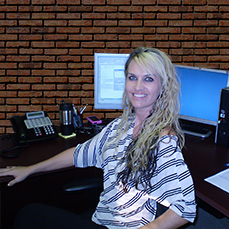 Whisper Dotson, Drafting
Whisper Dotson works in the drafting department using the Gerber Omega software. She has over eleven years experience in drafting. She is a talented and accomplished artist who loves spending quality time with her wonderful son Connor.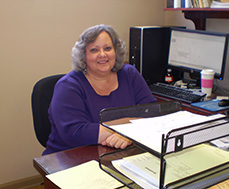 Elaine Ellett, Drafting
Elaine Andrews is a draftsman with thirty-seven years of experience. She operates one of our Gerber Cad Systems. She has worked in all aspects of monument design and has even instructed classes on the Gerber Omega system. She has 2 children and 2 grandchildren.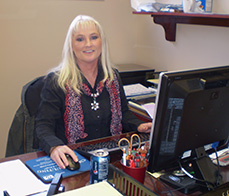 Donna Gaddy, Drafting
Donna has been in the granite industry for over 26 years. Born and raised in Elberton, she followed in her parents footsteps when it comes to sandblasting monuments. She operates the Monu Cad System for drafting. She is married to Bryan Gaddy and they have two daughters, Jessica and Jaycie. They also have one grandson, Dakota.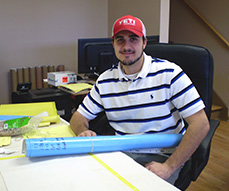 Nathan Walters, Drafting
Nathan Walters is the grandson of Elliott Paul and a dynamic employee of Eagle Granite Company. He assists on all levels of production and is able to help in all departments. Armed with his vast knowledge of granite, technical and computer skills, and creative personality, he is helping the Drafting Department coordinate and process customer orders more quickly and efficiently.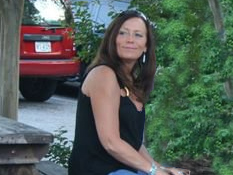 Sheila Hill, Customer Service
Sheila is a native of Oglethorpe Co., coming to Eagle in February 2014. She works with orders, quotes and most other customer service related office tasks. She has a daughter, Paige Murphy, who lives with her husband Andy and grandson Dustin on the family cattle ranch in Fraser, CO. And, she is also the proud mom of U.S. Marine Jeremy Hill stationed in NC. She enjoys any outdoor activity, including horseback riding, camping, mortorcycle riding or just relaxing by a bonfire.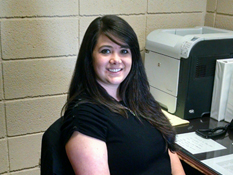 Christina Tucker, Customer Service
Christina works with orders, quotes and most other customer service related office tasks. She's one of the first people you'll talk to when you call our sales office! She was born and raised in South Carolina. She moved to Georgia 3 years ago where she began working in the granite industry. She has one daughter, Abigail, and enjoys going to the lake, riding mortorcycles and listening to music.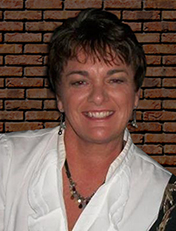 Kim Egan, Customer Service
Kim is Eagle's Customer Service Representative, for customers in the Northeast, working with Sanford Butler. She has been in the Elberton/Rock Branch area for 4 years since moving from Atlanta. Her 2 grown children still reside in the Atlanta area. Kim holds a degree in Business Administration and has previous experience in the granite industry. She lives on 15 acres, where she hopes to raise a variety of animals and enjoys photographing the local wildlife.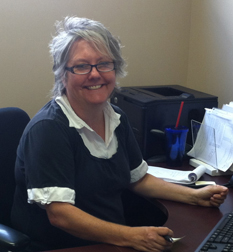 Trish Miller, Customer Service
Trish Miller has lived in Elberton for over 25 years. As a native Texan (Plano) she very much enjoys speaking with all of Stewart's customers. She and her husband, Fred, have raised 3 daughters and are enjoying their 4 (5 in October) grandchildren very much. Trish has worked within the granite industry since 1999. She worked with Stewart back then as he was just getting started in the granite business! Customer service is Priority One for Trish.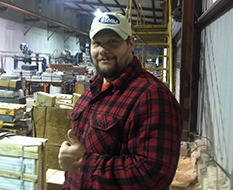 Troy Ayers, Hand/Laser Etching
Troy is a second generation Eagle Granite employee (his father worked for Eagle for 30 years!) He has joined the Eagle family to lend a hand with all of the laser and hand etched memorials. He brings years of experience and is an amazing artist.
He enjoys spending time with his family and being active within the Church.